Basse Def is an 8 bits adaptation of a comic book by Jibé (Jean-Baptiste Pollien) about two geeks getting sucked into a video game. It is a classic platformer, greatly influenced by Mega Man with a bit of Super Mario thrown in. I haven't read the comics, so there are probably jokes and insides I did not get. Sorry for that! I had fun playing it, for the most part, but something felt wrong. Let's try to see what it is.
The Dude, The Fat and the Ugly
The game begins with a nicely drawn cutscene, telling the story of those geeks I mentioned above. The first character is Ludo, a tall long-haired dude that shoots projectile from his finger. Then there's Simon, a fat little binocular balded guy that won't jump very high but will shoot a powerful blast, yeah, with his finger too! By pressing select, we can alternate between the two. Since the dude jumps higher and shoots faster, there is almost no reason to play as the fat guy in the normal levels. But since the fat guy is more powerful, he's the right choice for the boss fights.
There is no clear villain, so there's no real incentive to go on. We do learn later on who the big Boss is, but it would have been nice to introduce him from the start. What's his motivations? What is at stake? We don't really know. Also, the bosses themselves are not tied to their level. For example in Mega Man, Fireman has a level full of fire! Electman a level full of electricity. There's nothing like that here. Besides, after defeating a boss in Mega Man, you get their abilities, but not here. There is no power up, so the sens of progression is almost null.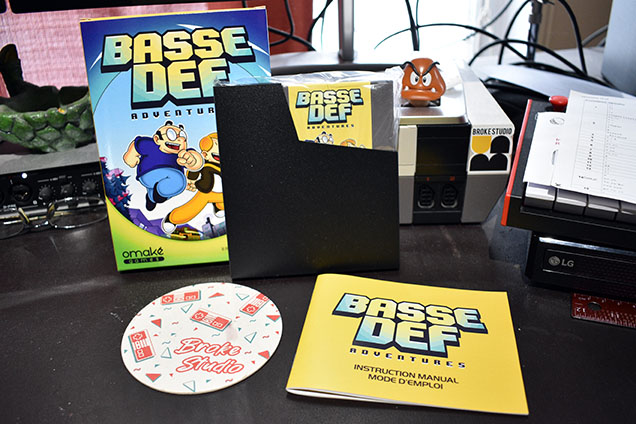 Missed opportunities
The gameplay is a bit repetitive. You jump on platforms, you shoot at enemies. There are some elements to spice things a little bit, like slippery ice, a jetpack and conveyor belts. Nice, but the concept is that the characters are trapped inside some retro video game world, and beside the Mario Ghost House, I didn't recognize any of the other levels. Maybe the moon level is from Duck Tale, I don't know. Maybe my video game culture is lacking. Probably.
The game would have been way better with levels full of Easter eggs and gameplay elements from the NES classics. How about an overworld map like SMB3? Some shoot-em-up levels like Gradius? Some disappearing blocks like Mega Man? Some hidden secrets like Metroid? It is hinted that there are multiple paths in the ghost house, but it turns out it was just a joke! That would actually have been nice. In fact, I did try shooting everywhere to reveal secret paths, or jumping out of reach places to find special hidden power ups. But no. No secret path. No power up.
Some verticality would have been a nice addition too. There's a level called Ice Mountain. I think it is the flattest mountain I've ever seen!
Sorry for the spoiler, but the last world is a Game Boy greenish level. The idea seems nice, but why Game Boy? The dude and the fat guy were sucked into the NES! The game designers didn't even bothered changing the color palette of the characters to fit the shades of green!
Some positive
There are some positive elements. Music is fun. Sounds like classic NES chiptune, and it fits the levels nicely. Graphics are nice, for the most parts. Levels are colorful and varied. There are some cheap death traps and frustrating enemy placement, but nothing too annoying. The game's difficulty is a good challenge, although when you run out of lives, you start at the beginning of the area. It can be frustrating. At least you don't start from the beginning!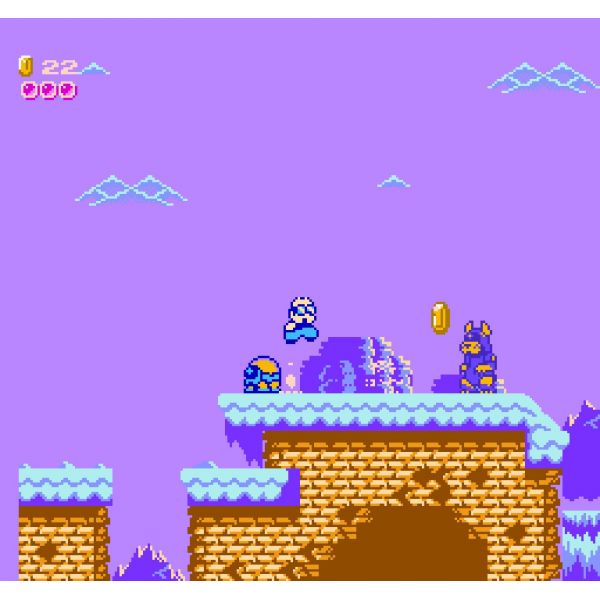 Manual blabber
The charm of retro games is that they always came with a manual and all kinds of maps, posters and register cards! Love 'em. I always make sure to read them when I review a homebrew game, because they are made with care, and often full of humor.
There's no poster or registration card here, only a manual. I think it's the first time I got bored reading one. It seems to have been written by a lawyer or a notary. It explains everything in painstaking details. How you get a password after killing a boss, that you should write it down "somewhere safe", and how you can enter it to start where you left, in 4 easy steps. It is tedious. It could have been said with half the words, or better yet, in a comic book format.
Conclusion
Basse Def is not a bad game. It is an average game, full of missed opportunities. I love Broke Studio. They are working hard to make and promote homebrew games. They are active and helpful in the community. It saddens me a lot to reach this conclusion, but I must be honest. You better go read the comics by Jibé, he's a great artist. Let me know what you think in the comment section. See you next time.
My score: 6 coins out of 10
Where to buy: https://www.brokestudio.fr/product/basse-def-adventures-nes/
Read the comics by Jibé (in french) :
https://omakebooks.com/fr/bd-comics/38-basse-def-bd-pixel-art.html